Experian Webinars
Select the sessions you're interested in attending or sign up for them all.
Looking for a previous webinar? Visit the
Look Ahead Resource Library
page.
FRAUD & ID
Building a Consumer-Centric Fraud & Identity Strategy
In this webinar, our experts will discuss post-pandemic fraud and identity trends and best practices, including how to prevent bot-driven attacks, improving the customer experience while mitigating risk and more.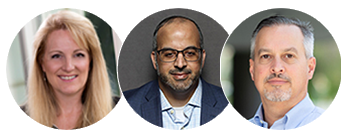 Kathleen Peters
, Chief Innovation Officer, Fraud & Identity
Gasan Awad
, Vice President, Fraud & Identity Product Management
Chris Ryan
, Senior Fraud Solutions Consultant
THURSDAY, JUNE 24, 2021 @ 11:00 A.M. PT | 2:00 P.M. ET
EXPANDING INSIGHTS
Balancing Risk by Identifying Consumer Resilience on the Road to Recovery
Join experts from Experian® and FICO® as they provide insights into consumer credit risk trends and resilience strategies across the credit lifecycle.

Sharon Tilley
, Senior Director of Product Management, FICO
David Binder
, Senior Principal Consultant, FICO
Tommy Lee
, Senior Director, FICO
Shawn Rife
, Director of Risk Scoring, Experian
THURSDAY, JULY 8, 2021 @ 10:00 A.M. PT | 1:00 P.M. ET
© 2021 Experian Information Solutions, Inc. All rights reserved.