New survey results:
Unlock the power of data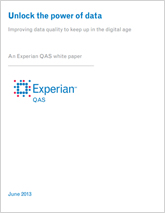 Interested in how organizations are engaging consumers across channels and improving data quality to keep up in the digital age? Experian QAS conducted a survey to gain insight into these strategies.

Download the research findings to learn:
How organizations interact with consumers across channels
What challenges data inaccuracies cause
How businesses are utilizing their data
Fill out the following form and click on the submit button below. We will contact you shortly.
Form fields below marked with * are required.
Thank you for your interest. For immediate assistance, please call 888.721.8822.

Click here to download the white paper now!