Complete the form below to download the Back-to-School White Paper.
Back-to-School Countdown: Smart strategies for email marketing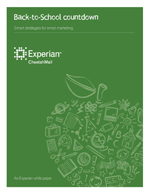 As we noted in 2011, to a large degree, success in Back-to-School email marketing comes down to timing. When is the best time to start your promotions? Download our latest Back-to-School White Paper to find out the most important tips to making your 2012 Back-to-School campaigns successful.