Download the webinar and we will send you our new white paper on the power of Big Data.
Complete the form below to view this webcast now!
Understand how Online Display Advertising can improve your Marketing ROI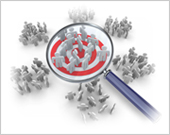 Leverage Experian data segments to find your customers online. Download our free webinar "Data-Driven Online Display Advertising" and learn how customers are improving campaign ROI by delivering ads only to their targeted markets.
Forrester estimates that U.S. online consumer spending will reach an average of $1,700 per person by 2016, growing 62%. Is your organization positioned to take advantage of the online shopper?
Be a part of the growing trend of multichannel marketers that are leveraging offline data for better online results.
During this webcast, you will learn:
Consumer and advertising trends
Hear how to influence and engage the new, highly connected and empowered consumer
Display advertising trends
Understand the best choices among display ads including: run of network, contextual, behavior, geo and audience targeting
Real case studies on implementing online display advertising
Learn how Axcess Financial reduced their cost per acquisition by 71%