Complete the form below for Back-to-School marketing trends!
Back-to-School Homeroom
Learn the ABC's of Back-to-School Marketing
Did you know 27% of businesses start Back-to-School marketing activities in May? It's time to sharpen those pencils and get the checklists ready because the Back-to-School campaign countdown has officially begun!
Complete the form at the right for key takeaways and best practices from Experian Marketing Services to help you plan a Back-to-School campaign in style. And, get timely insights from our Marketing Forward blog.
Smart strategies for email marketing.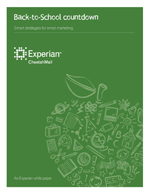 Webinar:
Plan your back-to-school campaign in style
Watch the webinar on-demand
Resident data experts Bill Schneider and Heather Dougherty, go over the data, emerging trends and opportunities that exist for marketers during the 2012 Back-to-School season. Complete the form on the right to watch the webinar on-demand.
Stay up to date with emerging Back-to-School trends on our Marketing Forward blog. You'll hear data experts across Experian Marketing Services report on what they're finding and what it means for marketers.
View the big business of back-to-school infographic for key insights on the valuable season.